Are you on the hunt for the perfect wedding dress? As your significant day approaches, finding the ideal gown that makes you feel like a princess becomes a top priority. With countless options available, knowing where to look and what to consider is essential. In this article, we will guide you through finding a shop for the best wedding dresses near me, ensuring you make a confident choice that suits your style and preferences.
Finding the Perfect Wedding Dresses to shop near you
Determining your style
Every bride has a unique vision for her wedding day attire. Before embarking on your dress hunt, take some time to determine your style. Consider the silhouette, neckline, and overall aesthetic that resonates with you. This will help narrow your options and make the shopping experience more efficient.
Start your search by researching local bridal boutiques in your area. These specialized stores often have a wide selection of wedding dresses and knowledgeable staff to assist you. Look for boutiques with positive reviews, which indicates customer satisfaction and quality service.
Utilizing online resources
In addition to local boutiques, utilize online resources to expand your options. Many reputable bridal retailers have online platforms allowing you to browse their collections and order dresses online. Remember that online shopping may require additional time for alterations and sizing adjustments.
Top Factors to Consider When Choosing a Wedding Dress
When choosing a wedding dress, several factors come into play. It's essential to consider these elements to find the dress that complements your body type, budget, and wedding theme.
Silhouette and body type
Different silhouettes suit different body types. Each shape offers a unique style and accentuates specific features, from A-line to mermaid to ball gown. Understanding your body type and selecting a silhouette that flatters your figure will enhance your overall appearance.
Fabric and details
Wedding dresses come in various fabrics, from luxurious satin to delicate lace and flowing chiffon. Consider the season and climate of your wedding when selecting the material. Additionally, pay attention to the details, such as beading, embroidery, and embellishments, which can add a touch of elegance to your gown.
Budget
Establishing a budget for your wedding dress is crucial. Determine how much you are willing to spend and explore options within that range. Remember to include alterations and accessories in your budget to avoid any surprises.
Venue and theme
The venue and theme of your wedding play a significant role in your dress style. A beach wedding may require a lightweight and airy dress, while a formal ballroom affair may require a more elaborate gown. Consider the overall ambiance of your wedding and select a dress that complements the setting.
Exploring Local Bridal Boutiques
Benefits of shopping locally
Shopping at local bridal boutiques has its advantages. Firstly, you can enjoy personalized service from experienced consultants who understand the latest trends and styles. They can provide valuable recommendations based on your preferences. Additionally, shopping locally allows you to try on dresses in person, ensuring the perfect fit and avoiding potential sizing issues.
Tips for scheduling appointments
To make the most of your bridal boutique experience, it's advisable to schedule appointments in advance. This ensures the staff can dedicate their time to you, providing a personalized and unhurried experience. Call the boutique beforehand to inquire about their appointment policies and availability.
Navigating the selection process
When you arrive at the boutique for your appointment, the staff will guide you through the dress selection process. Be open to trying on various styles, even those you may have yet to consider initially. Often, brides are pleasantly surprised by dresses they didn't expect to love. Provide feedback to the consultant, and they will make recommendations based on your preferences and body type.
Shopping for Wedding Dresses Online near you
Advantages of online shopping
Online shopping has become increasingly popular for wedding dresses due to its convenience and extensive selection. One of the primary advantages is the ability to explore a wide range of styles and designers from the comfort of your home. You can browse through catalogs, filter options by price, silhouette, or fabric, and even read customer reviews to gauge the quality of the dresses.
Trusted online retailers
While online shopping offers convenience, choosing trusted online retailers is crucial to ensure a positive experience. Look for established bridal websites with a good reputation and positive customer feedback. Research their return policies, customer service, and shipping times to make an informed decision.
Understanding sizing and measurements
When shopping for a wedding dress online, accurate measurements are essential. Each retailer will have a size chart that you can reference to determine your size. Take precise measurements of your bust, waist, and hips to find the best fit. Remember that alterations may still be necessary to achieve the perfect fit, so allow ample time for adjustments.
Popular Wedding Dress Styles
A-line
The A-line silhouette is a timeless choice that suits various body types. It features a fitted bodice that gradually flares out from the waist, resembling the shape of an uppercase "A." This style offers a classic and elegant look for formal and casual weddings.
Ball gown
The ball gown silhouette is synonymous with fairy-tale weddings. It features a fitted bodice and a voluminous skirt, creating a dramatic and romantic effect. Ball gowns are often adorned with intricate details, making them an excellent choice for grand celebrations.
Mermaid
The mermaid silhouette is form-fitting and accentuates the curves of the body. This style hugs the bust, waist, and hips, then flares out at the knees or lower, resembling a mermaid's tail. Mermaid dresses exude sophistication and glamour, perfect for brides who want to make a statement.
Sheath
The sheath silhouette is sleek and streamlined, skimming the body's natural curves. It offers a modern, understated look, ideal for beach weddings or intimate ceremonies. Sheath dresses are often made of lightweight fabrics that allow for easy movement and comfort.
Tea-length
A hemline between the knee and ankle characterizes tea-length dresses. This retro-inspired style adds a touch of vintage charm to your wedding day look. Tea-length dresses are versatile and work well for both casual and semi-formal weddings.
Tips for a Successful Wedding Dress Shopping Experience
Bringing supportive friends or family
When shopping for a wedding dress, it's helpful to have supportive friends or family members by your side. Choose individuals who understand your style preferences and provide honest feedback. Their presence can make the experience more enjoyable and alleviate any potential stress.
Being open-minded to different styles
While generalizing your desired style is essential, be open-minded to trying different dress styles. Dresses often look different on the hanger than they do on the body. Allow yourself to explore various options and be pleasantly surprised by a dress you may not have considered initially.
Trying on various options
To find the perfect wedding dress, it's crucial to try on a variety of options. Even if you have a particular style, trying different dresses can help you determine what suits you. Experiment with different silhouettes, necklines, and fabrics to see which makes you feel the most beautiful and confident.
Communicating with the boutique staff
Throughout the shopping process, communicate openly with the boutique staff. Share your preferences, concerns, and any specific requirements you may have. The consultants assist you and make your dress shopping experience as smooth as possible. Feel free to ask questions or seek their expertise.
Making the Final Decision
Considering alterations
After finding the dress of your dreams, it's essential to consider alterations. Very few dresses fit perfectly off the rack, and alterations ensure a tailored fit that enhances your silhouette. Consult with the boutique staff or a professional seamstress to discuss the necessary alterations and timeline.
Ordering in advance
Wedding dresses often require a significant lead time for production and delivery. It's advisable to order your dress well in advance to allow for any unexpected delays. Calling early also provides ample time for alterations and any additional customization.
Finalizing the purchase
Once you have made your final decision and ensured all necessary alterations and adjustments are accounted for, it's time to finalize the purchase. Carefully review the terms and conditions, payment options, and delivery details. Record all communication and documentation related to your dress purchase for future reference.
Understanding Fiancée Bridal Curves
Embracing body positivity
Fiancée Bridal Curves believes in celebrating all body types and promoting body positivity. The boutique recognizes that beauty comes in various shapes and sizes and aims to create a welcoming and empowering environment for curvy brides. The Fiancée Bridal Curves team understands curvy brides' unique needs and desires. It is dedicated to helping them find a wedding dress that makes them feel confident and radiant.
Catering to diverse body types
Curvy brides come in a range of sizes and body types. Fiancée Bridal Curves recognizes this diversity and offers a wide selection of plus-size wedding dresses to cater to various curves and proportions. Whether you have an hourglass figure, a pear-shaped body, or any other body type, Fiancée Bridal Curves has options that will accentuate your assets and flatter your unique shape.
Celebrating curves
At Fiancée Bridal Curves, curves are celebrated and embraced. The boutique carries wedding dresses designed to enhance and highlight the natural curves of curvy brides. From gowns that cinch at the waist to mermaid silhouettes that hug the curves, Fiancée Bridal Curves ensures that every dress is carefully chosen to make curvy brides feel beautiful and confident on their special day.
Specialized boutique for curvy brides
Fiancée Bridal Curves is a specialized boutique solely dedicated to curvy brides. The boutique understands the specific needs and desires of more curvaceous women and curates a collection of wedding dresses that cater to those needs. Brides can feel confident knowing that Fiancée Bridal Curves focuses on providing them with a positive and enjoyable dress shopping experience.
Extensive selection of plus-size wedding dresses
Fiancée Bridal Curves offers an extensive selection of plus-size wedding dresses, ensuring every bride can find a dress that fits her style and vision. From classic and timeless designs to contemporary and fashion-forward styles, the boutique carries dresses from renowned designers known for their attention to detail and quality craftsmanship. With various sizes and styles available, Fiancée Bridal Curves has something for every curvy bride.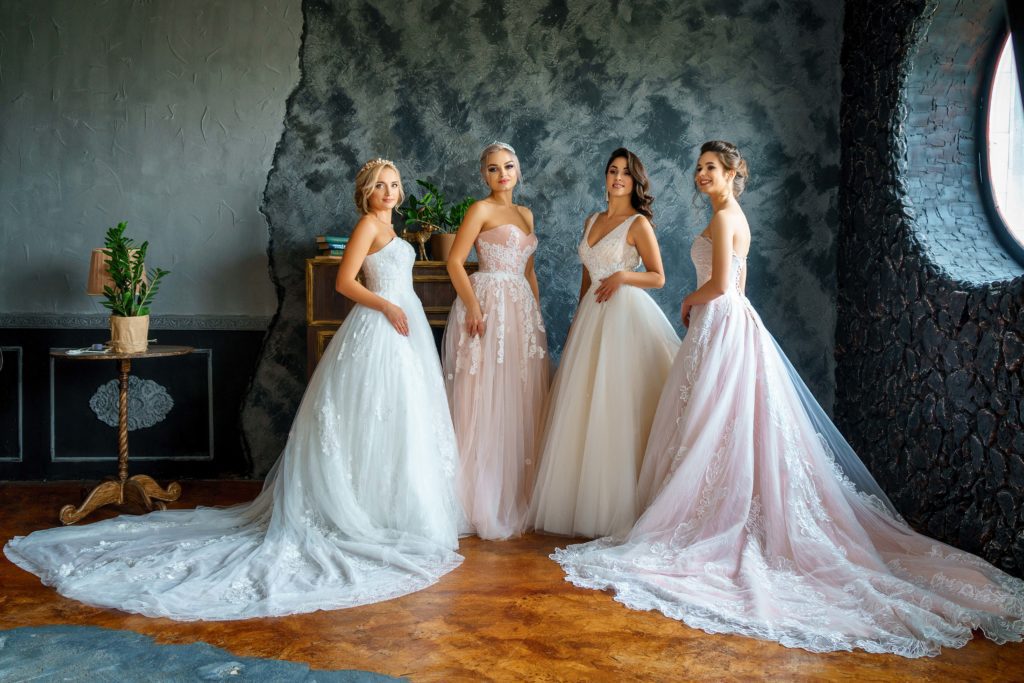 Professional and inclusive service
The team at Fiancée Bridal Curves is committed to providing professional and inclusive service to every bride. The consultants know the latest trends in bridal fashion and have expertise in dressing curvy brides. They create a warm and supportive atmosphere where brides can express their preferences and concerns openly. Whether you need assistance finding the perfect dress or advice on accessories and alterations, the team at Fiancée Bridal Curves is dedicated to making your experience memorable and enjoyable.
Conclusion
Choosing the best wedding dress is an exciting journey that involves considering your style, body type, and wedding theme. Whether you opt for local bridal boutiques or explore online retailers, be open to different styles and try on various options. Communicate your preferences and concerns with the boutique staff to ensure a personalized and prosperous shopping experience. By following these tips and guidelines, you'll be well on your way to finding the wedding dress of your dreams.
FAQs
Can I buy a wedding dress online without trying it on first?
While it's possible to purchase a wedding dress online without trying it on, it's generally recommended to try on dresses in person to ensure the best fit and overall appearance.
How long before my wedding should I start shopping for a wedding dress?
It's recommended to start shopping for a wedding dress at least 9-12 months before your wedding to allow ample time for ordering, alterations, and any unexpected delays.
What is the average cost of a wedding dress?
The price of a wedding dress can vary greatly depending on the designer, fabric, and level of customization. On average, wedding dresses can range from a few hundred to several thousand dollars.
Should I bring a specific undergarment to my dress fittings?
Obtaining the undergarments you plan to wear on your wedding day to your dress fittings is advisable. This includes the correct bra, shapewear, and any other supportive undergarments that may impact the fit of the dress.
How do I ensure the skirt matches my wedding theme and venue?
Consider the overall ambiance of your wedding when selecting a dress. opt for styles and fabrics that complement the theme and venue. For example, a lightweight and flowy dress may suit a beach wedding. At the same time, a formal ball gown may be perfect for a grand ballroom celebration.