Are you getting ready for your big day and wondering what type of veil you should wear? The wedding veil is integral to any bride's attire and can make a big difference in your overall look. However, with so many options available, choosing the perfect veil that complements your dress and fits your style can be overwhelming. In this article, we'll guide you through everything you need about wedding veils.
Introduction
The wedding veil is a traditional accessory that dates back centuries and is still popular among modern brides. Veils come in various lengths, styles, and materials, making it easy to find one that fits your dress and personal style. You can add elegance and sophistication to your wedding look with the right veil.
Wedding veils have been worn for centuries and have had different meanings in different cultures. In ancient Rome, brides wore veils to protect them from evil spirits. In medieval times, veils were a symbol of purity and chastity. Today, veils are primarily worn for aesthetic purposes, but they still hold symbolic meaning for many brides.
There are several types of wedding veils, each with its unique style and length. Here are some of the most popular types of wedding veils:
– Birdcage Veil
The birdcage veil is a short veil that covers only a portion of the face. It's typically made of netting or tulle and attached to a small comb or headband. So this type of veil is perfect for a vintage-inspired or retro look.
– Blusher Veil
The blusher veil is a short veil that covers the bride's face as she walks down the aisle. Also It's usually made of tulle or netting and can be worn on its own or with a long veil.
– Elbow-Length Veil
The elbow-length veil is a classic, versatile option that falls just below the bride's elbows. So It's great for a formal wedding and pairs well with most dress styles.
– Fingertip-Length Veil
The fingertip-length veil is a popular choice that falls to the bride's fingertips when her arms are relaxed at her sides. Also It's an excellent option for a semi-formal or formal wedding.
– Cathedral Veil
The cathedral veil is the longest and most formal veil, also extending beyond the train of the bride's dress. It's perfect for a grand and elegant wedding.
– Chapel Veil
The chapel veil is similar to the cathedral veil. However, it is shorter, typically falling just below the bride's train. Also It's an excellent option for a formal wedding that maintains a sense of simplicity.
Choosing the Right Wedding Veils for Your Wedding Dress
Choosing the right veil to complement your wedding dress is essential for creating a cohesive and stylish look. Here are some tips to keep in mind when selecting your veil:
Consider the length and style of your dress. So if you have a long train or intricate detailing on the back of your clothing, opt for a simple veil that won't detract from the dress. Alternatively, a more elaborate veil can add some interest and drama if you have a simple dress.
Think about your hairstyle. Your veil should work with your hairstyle, not against it. If you plan on wearing your hair up, a long veil can create a stunning effect, while a shorter veil can accentuate a low bun or side-swept hairstyle.
Consider your wedding theme. If you're having a beach or bohemian wedding, a simple and flowy veil may be better than a formal and structured veil.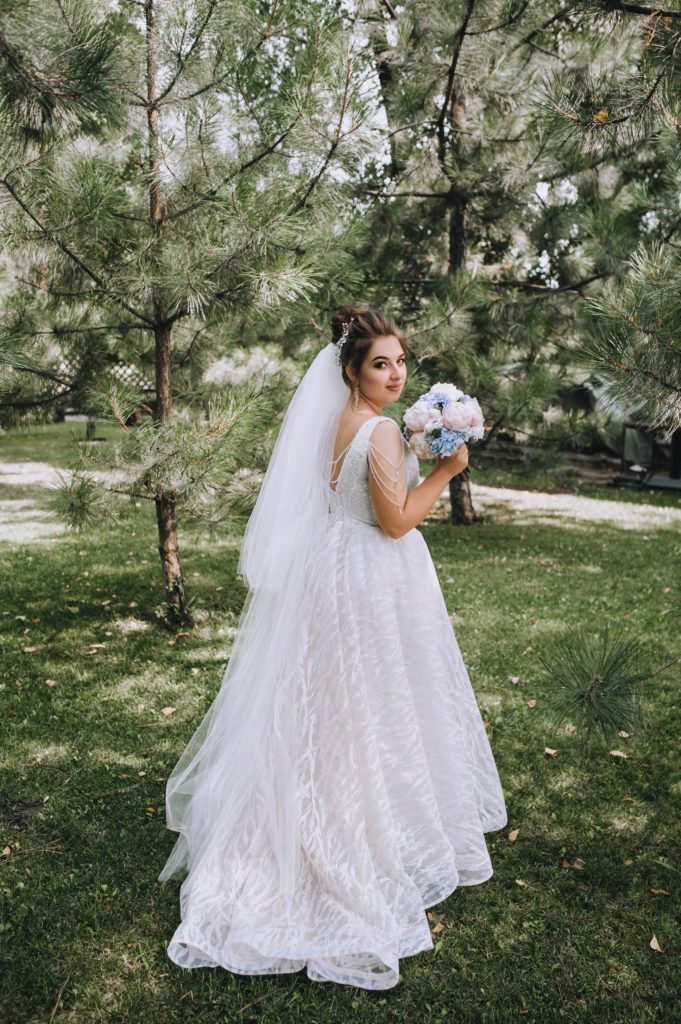 How to Wear a Wedding Veils
Wearing a wedding veil can seem daunting, but with some practice, it's easy to get the hang of it. Here's how to wear a wedding veil:
Start by styling your hair how you want it for the wedding day. Also if you're wearing a long veil, secure any loose strands of hair.
Attach the veil to your hair using bobby pins or a comb. Ensure the veil is secure and won't fall out during the ceremony.
Adjust the veil to your desired position. A blusher veil should cover your face until you reach the altar, while longer veils can be draped over your shoulders or left to flow down your back.
If a traditional wedding veil isn't your style, however plenty of alternatives exist. Some options include:
Flower crowns
Hair accessories, such as hair combs or hairpins
Tiaras or headbands
Birdcage hats or fascinators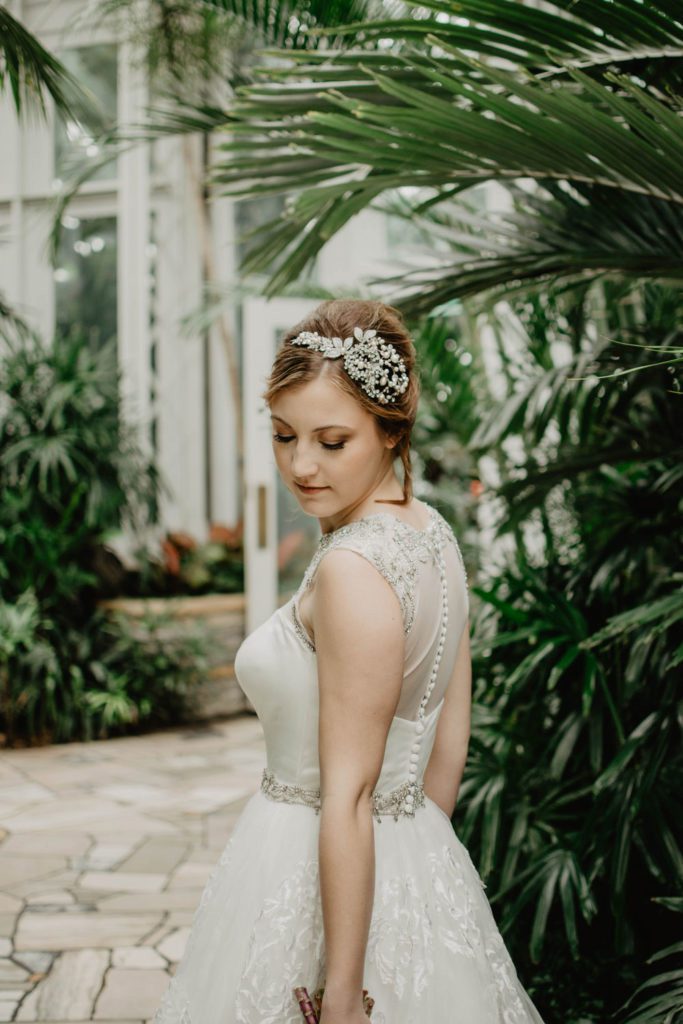 How to Care for Your Wedding Veils
To ensure your wedding veil stays in good condition, so it's essential to take proper care of it. Here are some tips:
Store your veil in a cool, dry place, away from direct sunlight.
Avoid touching the veil too much, as oils from your hands can damage the fabric.
If your veil gets wrinkled, use a steamer or iron on a low setting to remove the wrinkles.
If your veil gets stained, take it to a professional cleaner who specializes in wedding attire.
Wedding Veils FAQ
Here are some frequently asked questions about wedding veils:
– What is the purpose of a wedding veils?
The purpose of a wedding veil varies depending on culture and tradition. Sometimes, it's a symbol of purity or protection from evil spirits.
– How do I know what length of the veil to choose?
The length of your veil will depend on your personal preference and the style of your dress. Consider the size of your train and the formality of your wedding when choosing.
– Can I wear a veil with a non-traditional wedding dress?
Absolutely! A veil can be a great way to add elegance and tradition to a non-traditional wedding dress.
– How do I attach my veil to my hair?
Use bobby pins or a comb to attach the veil to your hair. Make sure it's secure and won't fall out during the ceremony.
– What if I don't want to wear a wedding veils?
If a traditional wedding veil isn't your style, plenty of alternatives exist. So consider a flower crown, hair accessory, tiara, or birdcage hat as a stylish alternative.
Conclusion
Choosing a wedding veil can seem overwhelming, with many styles and options available. But with some research and consideration of your style and wedding theme, you can find the perfect veil to complement your dress and make you feel like a beautiful bride on your big day.
Remember to take care of your veil before and after the wedding to ensure it stays in excellent condition. And feel free to experiment with alternative veil options if something other than a traditional veil isn't your cup of tea.
We hope this guide to wedding veils has been helpful in your wedding planning journey. Happy veil shopping!
Ready to start planning your dream wedding? Visit Fiancée Bridal Curves now and discover everything you need to make your special day unforgettable. From beautiful dresses to stunning accessories and décor, Fiancée Bridal Curves has everything you need to bring your wedding vision to life.