Are you a plus-size bride-to-be excitedly planning your dream wedding? One of the most critical aspects of your big day is finding the perfect wedding dress that fits beautifully and makes you feel confident and radiant. You can enhance your curves and showcase your unique beauty with the right style and silhouette. This article will explore the most flattering bridal gowns styles for plus-size brides, ensuring you look and feel stunning on your special day.
Introduction: Celebrating Body Positivity
Your wedding day is a celebration of love, and embracing body positivity and self-confidence is essential. Plus-size brides have an array of stunning wedding dress options that can accentuate their curves and create a captivating bridal look. Let's explore the different styles and silhouettes that are most flattering for plus-size brides.
Understanding Your Body Shape
Before delving into specific wedding dress styles, it's essential to understand your body shape. Everybody is unique, and identifying your body shape will help you choose a dress that flatters your figure. Some common body shapes among plus-size women include hourglass, pear, apple, and rectangular. By determining your body shape, you can focus on highlighting your best features while minimizing any areas you may be less confident about.
A-Line and Princess Cut Dresses: Timeless Elegance
A-line and princess-cut dresses, including plus-size figures, are universally flattering for all body types. These styles feature a fitted bodice that gradually flares from the waist, creating an elegant and elongating effect. The A-line silhouette skims over the hips and thighs. At the same time, the princess cut accentuates the core and provides a regal look. Whether you prefer a classic A-line or a romantic princess cut, these styles offer timeless elegance for plus-size brides.
Empire Waist Dresses: Effortless Grace
Empire waist dresses have a high waistline just below the bust, flowing into a loose and graceful skirt. This style is particularly flattering for plus-size brides as it draws attention away from the midsection and emphasizes the bust and neckline. Empire waist dresses are comfortable, feminine, and perfect for those seeking a bohemian or vintage-inspired bridal look.
Ball Gown Dresses: Fairy Tale Romance
A ball gown dress is ideal if you've always dreamed of a fairy tale wedding. The ball gown silhouette features a fitted bodice and a voluminous, floor-length skirt. This style cinches at the waist, accentuating curves and creating a dramatic hourglass shape. Ball gown dresses exude romance and grandeur, making them a popular choice for plus-size brides looking to make a statement on their special day.
Mermaid and Trumpet Dresses: Sensual Sophistication
Mermaid and trumpet dresses are excellent options for plus-size brides who want to showcase their curves sensually and sophisticatedly. These styles hug the body from the bust to the knee, emphasizing the natural curves before flaring out at the bottom. Mermaid and trumpet dresses exude confidence and allure, creating a show-stopping bridal look.
Sheath and Column Dresses: Streamlined Chic
Sheath and column dresses offer a sleek and streamlined silhouette that gracefully skims over the body. These styles are perfect for plus-size brides who prefer a minimalist and chic aesthetic. Sheath and column dresses create an elongated look, emphasizing the natural shape of your body without excessive volume. Pairing this style with the right accessories can elevate your overall bridal ensemble.
Off-the-Shoulder and Sweetheart Necklines: Accentuating the Upper Body
Is Off-the-shoulder and sweetheart necklines are flattering choices for plus-size brides who want to draw attention to their upper body. Also Off-the-shoulder styles beautifully showcase the collarbones and shoulders, creating a romantic and feminine look. Sweetheart necklines accentuate the décolletage, framing the bust area elegantly. Both necklines offer a touch of glamour and can be incorporated into various dress styles.
V-Neck and Scoop Necklines: Enhancing the Décolletage
V-neck and scoop necklines are versatile options that enhance the décolletage while creating a balanced and flattering look. V-necklines elongate the neck and torso, providing an elongated and slimming effect. Scoop necklines offer a classic and timeless appeal, suitable for various dress styles. Whether you prefer a plunging V-neck or a subtle scoop, these necklines can beautifully complement your figure.
Waist Emphasis and Cinching: Defining the Silhouette
Emphasizing the waist is crucial when choosing a wedding dress for plus-size brides. Cinching the waist creates a defined and feminine silhouette, highlighting the natural curves. Options such as belts, sashes, or skirts with built-in corsets can be incorporated to accentuate the waistline and provide an hourglass shape. Selecting dresses with flattering waist details can significantly enhance your overall bridal look.
Fabric Selection: Comfort and Flare
Regarding fabric selection, plus-size brides should consider both comfort and flare. Lightweight fabrics such as chiffon, tulle, and organza create a flowy and ethereal look while offering ease of movement. Structured fabrics like satin and taffeta provide a flattering and supportive fit, ensuring a smooth and elegant appearance. Choosing materials that make you feel comfortable and confident throughout your wedding day is essential.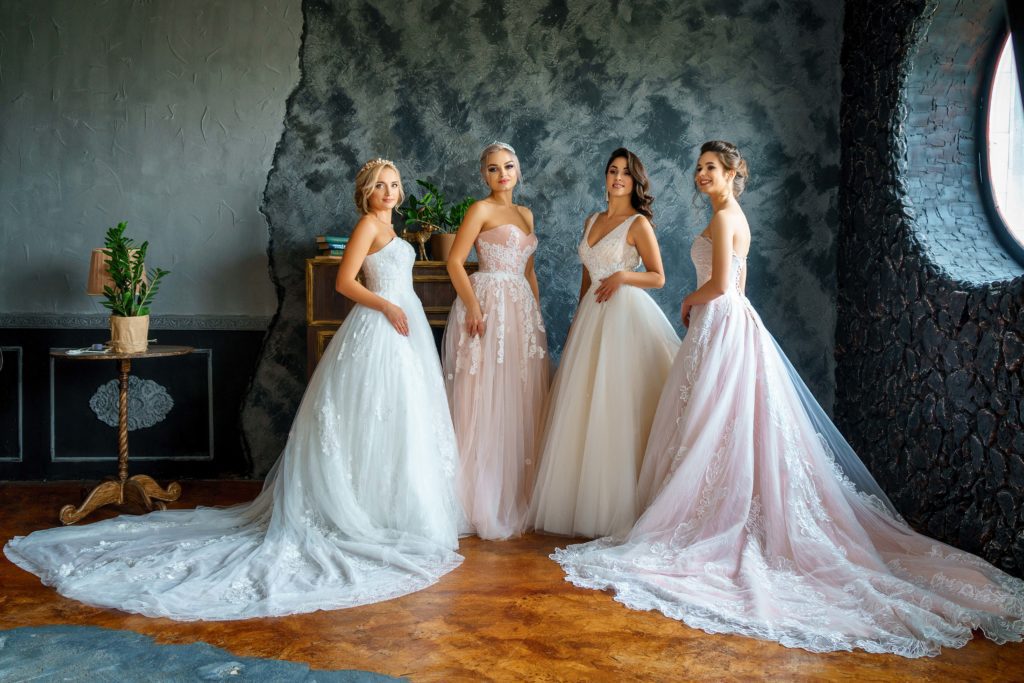 Accessorizing and Embellishments: Personalizing Your Look
Accessorizing your wedding dress allows you to infuse your style into your bridal ensemble. Plus-size brides can opt for statement jewelry, such as a dazzling necklace or chandelier earrings, to draw attention upward. Belts, brooches, or embroidered details can add focal points and create a customized look. However, balancing enhancing your dress and avoiding excessive embellishments that may overwhelm your figure is essential.
Choosing the Right Undergarments: Support and Confidence
Selecting the appropriate undergarments is essential for plus-size brides to achieve optimal support and confidence. A well-fitted, supportive bra can uplift the bust and enhance the overall silhouette. Shapewear, such as high-waisted briefs or bodysuits, can provide smooth contours and a streamlined appearance. Try on different undergarments with your chosen dress to ensure a seamless and comfortable fit.
Alterations and Customization: Tailoring for Perfection
Remember that alterations and customization can significantly enhance your wedding dress's fit and overall look. Working with a skilled sewist or tailor, you can make adjustments to ensure the dress flatters your unique body shape. Common alterations include hemming, removing or letting out the bodice, or adding sleeves. Customization options, such as incorporating lace or beading, can add a personal touch and make your dress unique.
Are you a plus-size bride-to-be searching for the perfect wedding dress to embrace your beautiful curves and make you feel like an absolute dream on your big day? Look no further! This article will explore the world of plus-size dream wedding dresses explicitly designed for fiancées with stunning curves. From elegant silhouettes to exquisite fabrics, we'll delve into the top trends, expert tips, and everything you need to know to find your ideal dress. So, let's dive in and make your wedding dress shopping experience truly memorable!
Celebrating Every Curve
Your wedding day is a celebration of love, and your dress should reflect the joy and confidence you feel as a plus-size bride. Fiancée Bridal Curves understands the unique needs of curvier brides and offers a stunning collection of plus-size dream bridal gowns that cater to your requirements. Our mission is to empower you to embrace your body, feel beautiful, and radiate confidence as you walk down the aisle.
Embracing Your Body Shape: Understanding Your Curves
As a plus-size bride, it's essential to understand and embrace your body shape. Everybody is unique, and knowing your curves will help you choose a wedding dress that flatters your figure. Whether you have an hourglass, pear, apple, or rectangular shape, Fiancée Bridal Curves has the perfect dress to accentuate your best features and make you feel incredible.
Choosing the Perfect Silhouette: Enhancing Your Natural Beauty
The silhouette of your wedding dress plays a significant role in enhancing your natural beauty. Fiancée Bridal Curves offers a wide range of silhouette options, from A-line and ballgowns to mermaids and sheaths. Experiment with different styles to find the one that complements your curves and makes you feel like a goddess on your special day.
Luxurious Fabrics for Plus-size Bridal Gowns
When it comes to plus-size dream wedding dresses, selecting the suitable fabric is crucial. Fiancée Bridal Curves sources high-quality materials that provide structure, comfort, and elegance. From luxurious lace to flowing chiffon, we have a variety of fabrics that will make you look and feel amazing.
Detailing and Embellishments: Adding Glamour to Your Dress
Embellishments and detailing can transform a beautiful dress into an extraordinary one. Fiancée Bridal Curves understands the power of intricate beading, delicate embroidery, and dazzling appliques. Our collection features stunning dresses with exquisite detailing that captivate your guests and make you shine as the star of the day.
Finding the Right Neckline: Accentuating Your Features
The neckline of your wedding dress can draw attention to your best features and create a flattering frame for your face. Fiancée Bridal Curves offers a range of neckline options, including sweetheart, V-neck, off-the-shoulder, and illusion. Choose the neckline that enhances your décolletage and highlights your radiant beauty.
Sleeve Styles for Plus-size Brides: Enhancing Elegance
Sleeves can add an extra touch of elegance and sophistication to your wedding dress. Fiancée Bridal Curves presents various sleeve styles, including cap, three-quarter, and long sleeves. Whether you prefer lace, tulle, or sheer fabrics, our collection offers sleeve options that make you feel like an actual princess.
Where to Shop for Plus-size Dream Bridal Gowns
Finding the right store to shop for your dream wedding dress is crucial. Fiancée Bridal Curves has a dedicated team of experts who will guide you through the process, ensuring you have a memorable and enjoyable experience. Visit our flagship store or explore our online boutique to discover a wide range of plus-size dream wedding dresses designed to make you feel like the most beautiful bride.
Expert Tips for a Successful Dress Fitting
To make the most of your dress-fitting experience, consider these expert tips:
Schedule your fitting well to allow ample time for alterations.
Wear undergarments similar to what you plan to wear on your wedding day.
Communicate openly with the bridal consultant about your preferences and any concerns you may have.
Body Positivity and Self-Love: Embracing Your Beauty
It's important to remember that beauty comes in all shapes and sizes. Embrace your body, celebrate your curves, and practice self-love throughout your wedding dress journey. Fiancée Bridal Curves is here to support you, uplift you, and ensure that you feel confident and radiant as you say, "I do."
Real Plus-size Bride Stories: Inspiring Confidence
Fiancée Bridal Curves shares real stories of our beautiful brides to inspire and uplift future plus-size brides. These stories showcase the confidence, joy, and radiance of finding the perfect bridal gowns that celebrates their curves. Read these inspiring tales and envision yourself as the next stunning bride, ready to embark on your happily ever after.
The Perfect Plus-size Bridal Gowns: A Reflection of You
Your wedding dress is more than just a garment; it reflects your unique style, personality, and love story. Fiancée Bridal Curves understands the importance of finding a dress that resonates with your vision. Our collection offers diverse styles and sizes to ensure that every plus-size bride finds her perfect match.
Conclusion
Your wedding day is a once-in-a-lifetime experience, and finding the perfect dress that embraces your curves is crucial in creating unforgettable memories. Fiancée Bridal Curves is dedicated to helping you discover a plus-size dream bridal gowns that makes you feel confident, beautiful, and ready to embark on your journey as a married couple. Let your curves shine, celebrate your love, and walk the aisle gracefully and elegantly.
FAQs
1. Can I order a custom-made wedding dress from Fiancée Bridal Curves?
Yes, Fiancée Bridal Curves offers custom-made wedding dresses to ensure a perfect fit and cater to your unique preferences. Contact our team for more information and to start creating your dream dress.
2. What sizes are available in the Fiancée Bridal Curves collection?
Our collection is available in various sizes to accommodate plus-size brides. We believe every bride deserves to find her dream dress, regardless of size.
3. How far in advance should I start shopping for my wedding dress?
It's recommended to start shopping for your wedding dress at least 9 to 12 months before your wedding day. This timeframe allows for ample time for ordering, alterations, and any customizations.
4. Can I bring my family and friends to my dress fitting at Fiancée Bridal Curves?
Absolutely! We encourage you to bring your loved ones along to share this special moment. Our team will ensure a comfortable and enjoyable experience surrounded by those who matter most.
5. How can I schedule a fitting at Fiancée Bridal Curves?
To schedule a fitting at Fiancée Bridal Curves, visit our website and fill out the appointment request form. Our team will contact you to confirm the details and assist you further.