Are you ready to walk down the aisle and say, "I do"? Undoubtedly, one of the most critical aspects of your wedding day is the wedding dress. Finding the perfect dress that complements your body shape, reflects your style, and matches your wedding theme can be overwhelming. Thankfully, Fiancée Bridal Curves is here to help you take the stress out of dress shopping with their Ultimate Wedding Dress Quiz. Let's dive in and discover how this quiz can guide you toward finding your dream wedding dress.
Introduction
Your wedding day is a once-in-a-lifetime event, and choosing the right wedding dress is crucial to feeling confident and beautiful as you walk down the aisle. Unfortunately, with countless options, it's easy to feel lost in a sea of tulle and lace. The Ultimate Wedding Dress Quiz by Fiancée Bridal Curves aims to simplify this process by providing personalized recommendations based on your unique preferences and body shape.
The Importance of Choosing the Right Wedding Dress
Your wedding dress is not just a piece of clothing; it symbolizes your love and reflects your personality. It sets the tone for the entire wedding and is often the focal point of the ceremony. The right dress can enhance your best features, flatter your figure, and make you feel like a true bride.
Understanding Your Body Shape
Every bride is beautifully unique, and understanding your body shape is the first step in finding a dress that accentuates your best features. The Ultimate Wedding Dress Quiz helps you identify your body shape and provides recommendations tailored to your specific silhouette.
Determining Your Body Shape
To determine your body shape, consider the proportions of your bust, waist, and hips. Common body shapes include hourglass, pear, apple, rectangle, and inverted triangle. Once you understand your body shape, you can explore dress styles that flatter your figure.
Wedding Dress Styles for Different Body Shapes
Different wedding dress styles complement various body shapes. For instance, an A-line silhouette is perfect for an hourglass figure, while a ball gown style can create balance for a pear-shaped body. The Ultimate Wedding Dress Quiz will provide personalized recommendations based on your body shape, ensuring you feel confident and beautiful on your big day.
Your wedding dress should be a true reflection of your style and taste. Fiancée Bridal Curves understands that every bride is unique, and they offer a wide range of dress styles to cater to diverse preferences.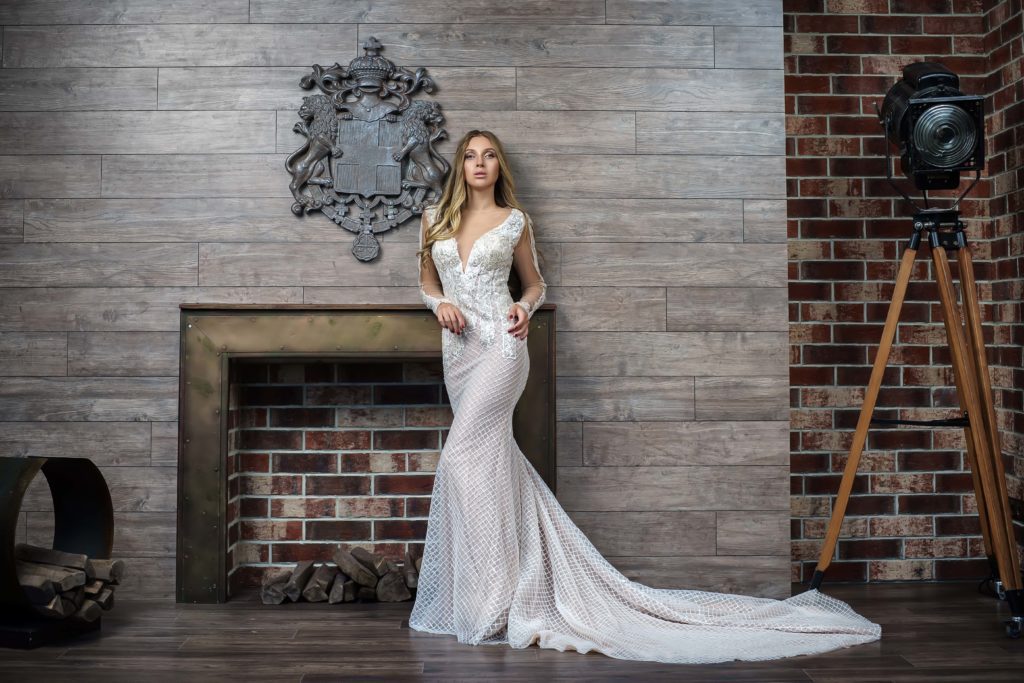 Classic and Timeless Wedding Dress Styles
If you envision yourself as a timeless bride with an elegant and traditional look, classic wedding dress styles such as the ball gown or A-line silhouette might be a perfect choice. These styles exude sophistication and grace, creating a genuinely captivating bridal presence.
Modern and Trendy Wedding Dress Styles
Modern and trendy wedding dress styles are the way for the fashion-forward bride who wants to make a statement. Consider sleek and minimalist designs or experiment with unique details like illusion lace or daring necklines. Let your personality shine through a contemporary dress that showcases the latest bridal fashion trends.
Bohemian and Romantic Wedding Dress Styles
If you are free-spirited and romantic, bohemian wedding dress styles are an excellent option. Flowing fabrics, delicate lace, and ethereal silhouettes will capture your boho-chic essence. Embrace nature-inspired details and effortlessly elegant designs for a whimsical, dreamy bridal look.
Unique and Non-Traditional Wedding Dress Styles
Non-traditional wedding dress styles offer endless possibilities for the bride, who marches to the beat of her drum. Consider bold colors, unconventional silhouettes, or even separates that allow you to create a genuinely one-of-a-kind bridal ensemble. Express your individuality and let your wedding dress reflect your unique love story.
Matching the Dress with the Wedding Theme
Your wedding dress should harmonize with your special day's theme and ambiance. Whether you're planning a formal, beach, rustic, or glamorous wedding, there are dress styles that will perfectly complement your chosen theme.
Formal and Traditional Wedding Themes
Classic wedding styles like ball gowns or mermaid silhouettes are timeless for a formal and traditional wedding. Instead, opt for luxurious fabrics, intricate beading, and elegant embellishments to match the grandeur of the occasion.
Beach and Destination Wedding Themes
Lightweight and breathable fabrics are essential for exchanging vows on a sandy beach or at a picturesque destination. Flowing chiffon or airy lace dresses are perfect for capturing the relaxed and effortless beauty of a beach wedding. Also, consider bohemian-inspired details or a shorter dress length for added comfort.
Rustic and Outdoor Wedding Themes
Rustic and outdoor weddings call for dresses that embrace nature and exude a laid-back charm. Soft and romantic fabrics like lace or tulle and delicate floral embellishments will complement the natural surroundings beautifully. A-line or sheath silhouettes are excellent choices for a rustic and organic aesthetic.
Glamorous and Black-Tie Wedding Themes
It's all about making a statement for a glamorous and black-tie affair. Choose dresses with luxurious fabrics like satin or silk, and consider intricate beading or dramatic details. Ball gowns or form-fitting mermaid silhouettes will ensure you command attention as you walk down the aisle.
Ensuring a perfect fit is crucial once you've identified the style and silhouette that suits your body shape. Professional alterations can significantly affect how a dress flatters your figure and enhances your overall appearance.
Importance of Professional Alterations
Professional sewists or tailors can work wonders in customizing your wedding dress to fit you like a glove. From minor adjustments to major modifications, their expertise ensures that every aspect of the dress complements your body shape and showcases your best features.
Tips for Ensuring a Flattering Fit
To ensure a flattering fit, consider the following tips:
Schedule your alterations well in advance to allow for any necessary adjustments.
Wear the undergarments and shoes you plan to wear on your wedding day during the fittings.
Communicate openly with your seamstress about your preferences and any concerns you may have.
Don't hesitate to request additional modifications to achieve your desired fit.
Budget Considerations
While finding your dream wedding dress is exciting, setting a realistic budget and exploring affordable options is essential. Fiancée Bridal Curves offers various dresses at different prices, ensuring every bride can find something within their budget.
Setting a Realistic Budget
Before embarking on your dress-shopping journey, establish a budget that aligns with your wedding budget. Consider factors such as alterations, accessories, and any additional expenses that may arise. Setting a realistic budget from the start will help you make informed decisions and avoid any financial stress.
Exploring Affordable Options
Affordability means something other than compromising on style or quality. Fiancée Bridal Curves offers a diverse collection of beautiful dresses at various price ranges. From sample sales to trunk shows, watch for promotions or discounts that can make your dream dress more affordable.
The Ultimate Wedding Dress Quiz by Fiancée Bridal Curves
Now that you have a solid understanding of how to find your perfect wedding dress, it's time to discover the Ultimate Wedding Dress Quiz by Fiancée Bridal Curves. This interactive quiz considers your body shape, personal style, and wedding theme preferences to provide you with tailored dress recommendations.
By answering a series of questions, you'll receive valuable insights and suggestions to guide you toward the dress of your dreams. So say goodbye to the overwhelm of endless dress options and let the Ultimate Wedding Dress Quiz narrow down the choices to those that best suit you.
Conclusion
Your wedding dress is more than just a garment; it symbolizes your love story and reflects your individuality. By taking the Ultimate Wedding Dress Quiz by Fiancée Bridal Curves, you can quickly and confidently navigate the world of wedding dresses. First, consider your body shape, style, and wedding theme. Then, with the right dress, you'll radiate beauty and confidence as you embark on your journey.
FAQs
Q1: How long does it take to receive the results of the Ultimate Wedding Dress Quiz?
A: Once you complete the quiz, you will receive your personalized dress recommendations immediately.
Q2: Can I take the quiz multiple times to clarify my preferences?
A: Absolutely! The quiz is designed to help you explore different options. So feel free to take it as often as you'd like to refine your choices.
Q3: Does Fiancée Bridal Curves offer alterations services?
A: While Fiancée Bridal Curves doesn't provide alterations in-house, they can recommend trusted sewists or tailors specializing in wedding dress alterations.
Q4: Are there plus-size options available in the dress collection?
A: Yes, Fiancée Bridal Curves understands the importance of inclusivity and offers a range of sizes to cater to diverse body types.
Q5: Can I try the recommended dresses at Fiancée Bridal Curves?
A: Absolutely! Fiancée Bridal Curves welcomes brides to schedule appointments to try on their recommended dresses and explore their entire collection.
Get ready to find your dream wedding dress by taking the Ultimate Wedding Dress Quiz at Fiancée Bridal Curves. Start your journey towards a picture-perfect wedding day look that captures your unique style and celebrates your love.
Experience bridal perfection at its finest. Reserve your fitting session at Fiancée Bridal Curves and enter a world of enchantment.
Discover your dream dress at Fiancée Bridal Curves. Embrace elegance, celebrate love, and radiate confidence on your special day. Book your personalized appointment now and let our expert consultants guide you to find the perfect gown that complements your curves and showcases your unique beauty. Unleash the bride within you and create memories that last a lifetime. So don't wait; begin your journey toward bridal bliss today.